HP Multi-Jet Fusion 3D Printer
Aerosport Additive has several HP Multi-Jet Fusion 3D Printer installed and producing production parts! This capability is allows us to continue providing the highest-quality prototypes as well as now providing high-volume production manufacturing with several styles of finishing. The ability to rapidly produce parts in a production nylon material changes the game for our customers. Give us a call or send us your file and let us show you what we can do for you. — From the prototype to the finished product with Aerosport Additive.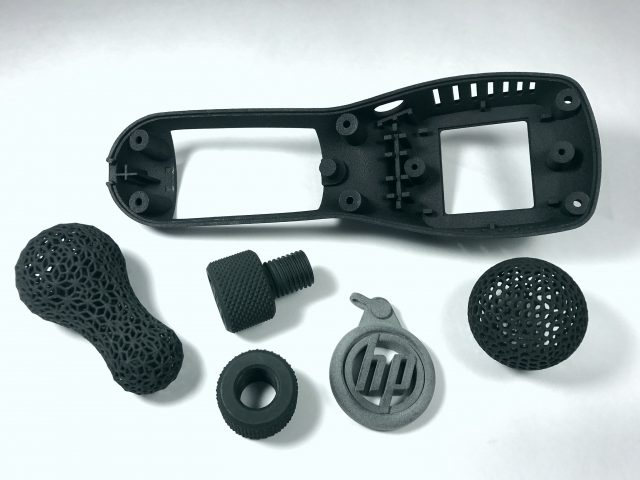 This new Multi-Jet Fusion technology allows faster prototyping and short-run production with end-use part material reliability. This production style is considerably faster than the other additive manufacturing options or traditional manufacturing methods, such as injection molding. We will be able to offer clients a much more cost-efficient path to final production parts while receiving prototype parts in the end-use material from the beginning of the design process.
Better Quality, Speed, Cost and Control
Leveraging decades of research and expertise in precision mechanics, microfluidics and materials sciences, HP has developed a system that can control part properties voxel by voxel (a voxel is the 3D printing equivalent of a pixel). This level of control means extreme precision and optimal mechanical properties in producing fully functional prototypes and final parts, and will reinvent manufacturing in the future. 
HP High-Reusability PA12 Nylon
The resulting parts are extremely strong, highly accurate and have a surface finish that makes them ideal for mechanical testing and production manufacturing.  All this at speeds up to 10x faster than legacy technologies.
Finishing Options
AeroSport Additive offers a wide variety of different finishes, including vapor polishing, vapor smooth, and Cerakote.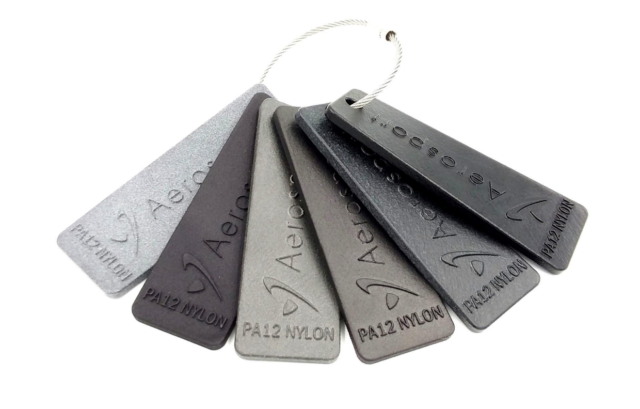 Sample Swatch Key
Bead Blasted (Default Finish)
Bead Blasted, Dyed Black
Shot Peened
Shot Peened, Dyed
Vapor Polished
Vapor Polished, Dyed
Mechanical Properties

Property Description
Test Standard
Metric
English
Tensile Modulus
ASTM D638
X Direction
1,700 MPa
245,000 psi
Y Direction
1,700 MPa
245,000 psi
Z Direction
1,800 MPa
260,000 psi
Tensile Strength
ASTM D638
X Direction
48 MPa
6,960 psi
Y Direction
48 MPa
6,960 psi
Z Direction
48 MPa
6,090 psi
Elongation at Break
ASTM D638
X Direction
20%
Y Direction
20%
Z Direction
15%
Thermal Properties
Property Description
Test Standard
Metric
English
Heat Deflection Temp (@ 0.45 MPa)
ASTM D648
175 °C
375 °F
Heat Deflection Temp (@ 1.82 MPa)
ASTM D648
95 °C
203 °F
Density
ASTM D792
1.01 g/cm3
0.036 lb/in3